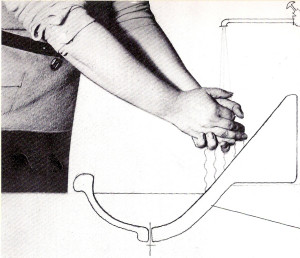 Between 1929 and 1933 the  Paimio Tuberculosis Sanatorium has been built based on Alvar Aalto's project.
The project was based on contemporaneous medical views: Alvar Aalto paid special attention to the psychological requirements of the patient lying on his/her bed. For their benefits Aalto designed detailed and accurated objects such as the noiseless washbasin, calming lighting and color schemes.
The inclination of the washbasin, crossing the falling water, is designed in order to avoid noise, without disturbing the room mate while he/she is sleeping.
The noiseless washbasin represents a very important example because Alvar Aalto designed it paying attention to many variables, including sound, and integrating them in the final product.
Social Share